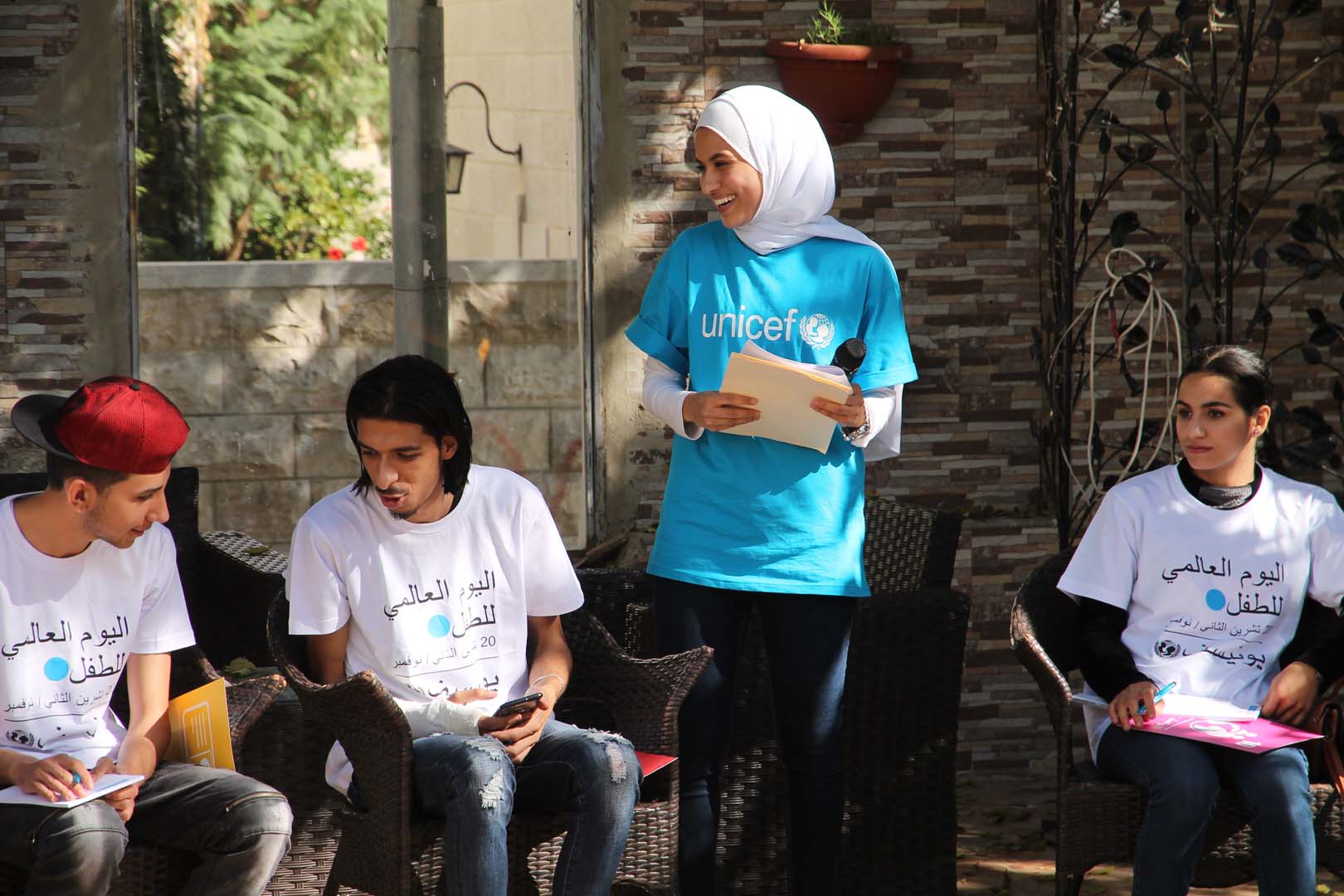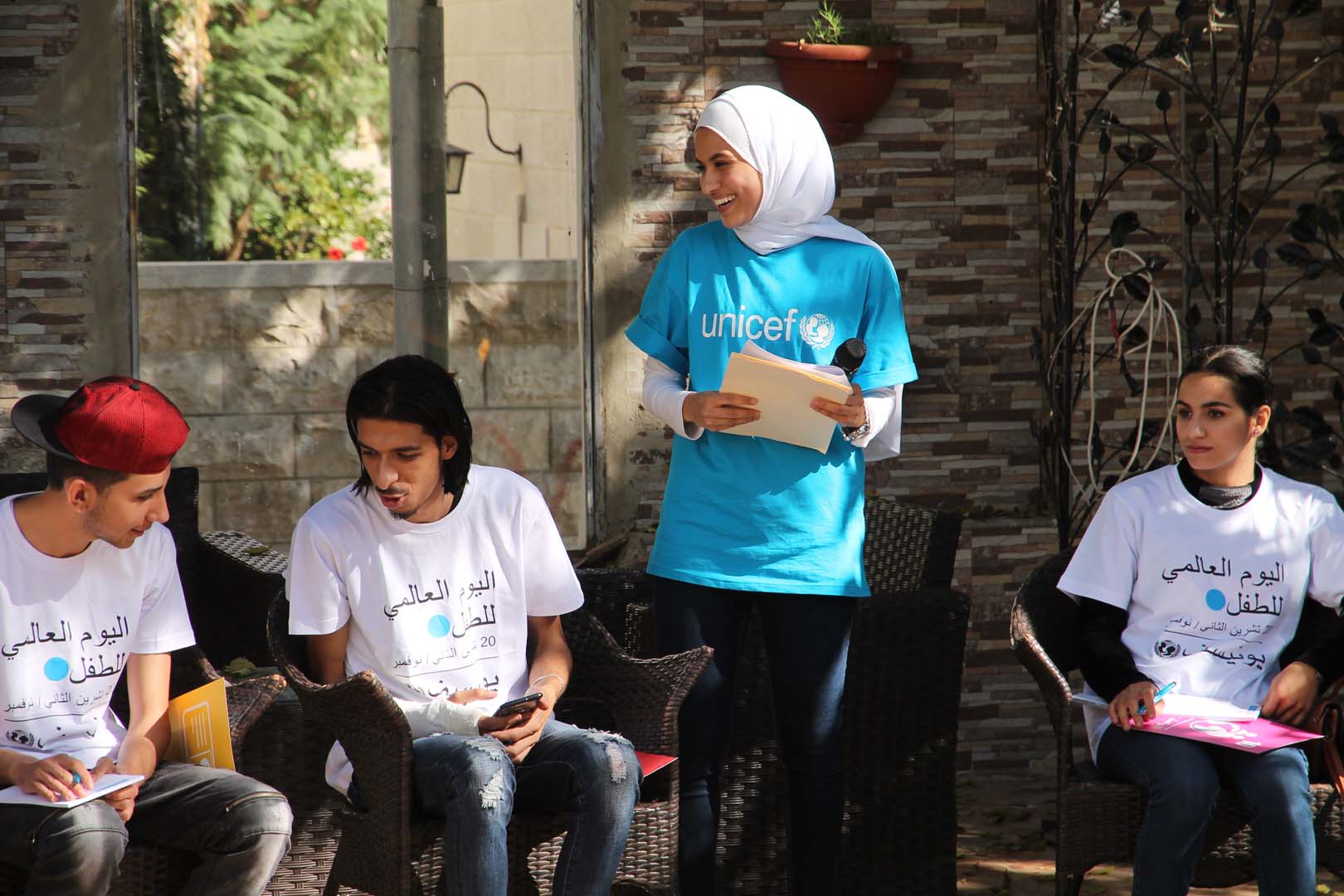 Photo: National UN Volunteer Haya Al-Jamal (standing), participates in an event for World Children's Day in Jordan. She is a Field Monitor with the UN Children's Fund (UNICEF) in Jordan. Haya supports the agency's flagship Makani programme, through site visits, multi-sector referral services and feedback collected from refugee and Jordanian students. The referrals and feedback helped UNICEF reach malnourished and refugee students with a history of trauma.

© UNICEF, 2019
UN entities mobilize UN Volunteers in support of their peace, development and humanitarian interventions and delivery. The added value of UN Volunteers to the 2030 Agenda for sustainable development is unrivalled.
In this section, we provide host entity representatives with guidance on hosting UN Volunteers, including our UNV solutions, recruitment, financial arrangements and management resources.
If you would like to proceed directly, then click to:
What are the steps to host a UN Volunteer?
What categories of UN Volunteers are available?
UNV enables flexible talent solutions to the needs of UN entities, offering different categories of UN Volunteers through well-establish legal and administrative framework of the Unified Conditions of Service. UN partners can mobilize different categories of UN Volunteers together to gain maximum benefit from their combined experience and expertise.
Nationals of the host country (or refugees and stateless persons physically present in the country of the duty station);

Recruited nationally;

Bring at least three years of experience with a minimum age of 27 years;

and

Deployed for a period of three months to maximum four years.
National UN Specialist Volunteer - COS Benefits & Allowances (

EN

, FR, ES)
Sample DOA Template (

EN

)
Ideally suited to areas needing innovation, community outreach, youth engagement, social media or work with marginalized communities;

Have up to three years of experience;

May be engaged for national and international assignments of up to two years max; and

Are between 18-26 years of age.
UN University Volunteers are a special segment of UN Youth Volunteers and serve on assignments of 3-6 months.
UN Youth Volunteers and UN University Volunteers have demonstrated their commitment to global peace and sustainable development through academic, extra-curricular and volunteer activities.
International UN Youth Volunteer

- COS Benefits & Allowances

(

EN

,

FR, ES

)
National UN Youth Volunteer

- COS Benefits & Allowances

(

EN

, FR,

ES

)
International UN University Volunteer

- COS Benefits & Allowances

(

EN

, FR,

ES

)
National UN University Volunteer

- COS Benefits & Allowances

(

EN

, FR,

ES

)
Sample DOA Template (

EN

)
Contribute their skills and talents from wherever they are, working from a computer, tablet or mobile phone;

Help UN entities, governments and civil society organizations achieve their goals by completing concrete, time-bound tasks/opportunities in support of peace and development; and

Come from a broad range of backgrounds and can help with any task that meets the service's

opportunity criteria

(typically, tasks relate to writing and editing, art and design, translation, outreach and advocacy or research).

NB. UNV manages the Online Volunteering service, a platform and provides expert advice to help UN entities translate their needs into conducive online volunteering opportunities. Online Volunteers are not "UN" Volunteers and do not benefit from this status. They, together with all users of the Online Volunteering website, are governed by the Terms of Use.
Role and Responsibilities of Host Entities
Please see a summary of host entity role and responsibilities in hosting UN Volunteers during the various stages of their assignment. (EN)