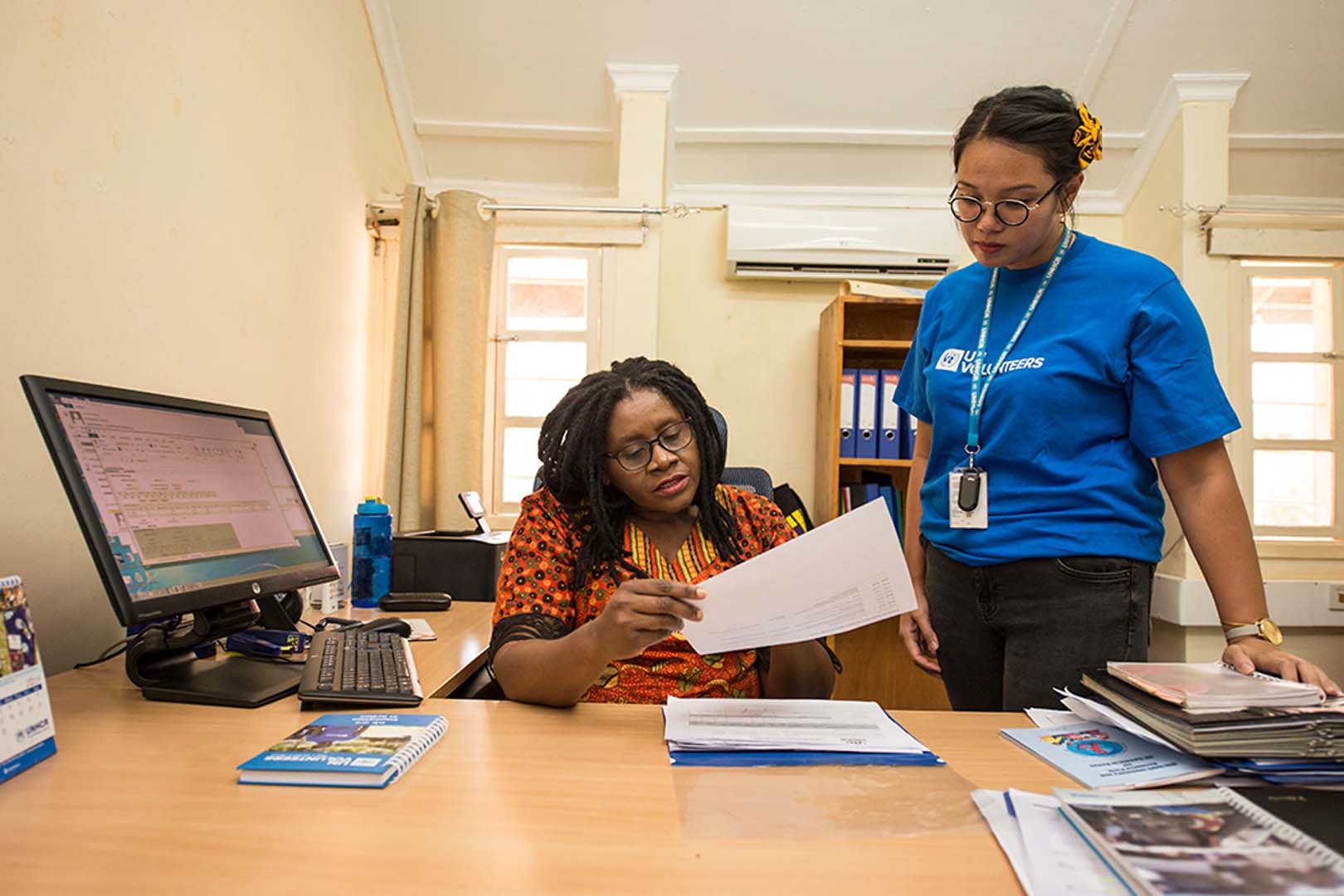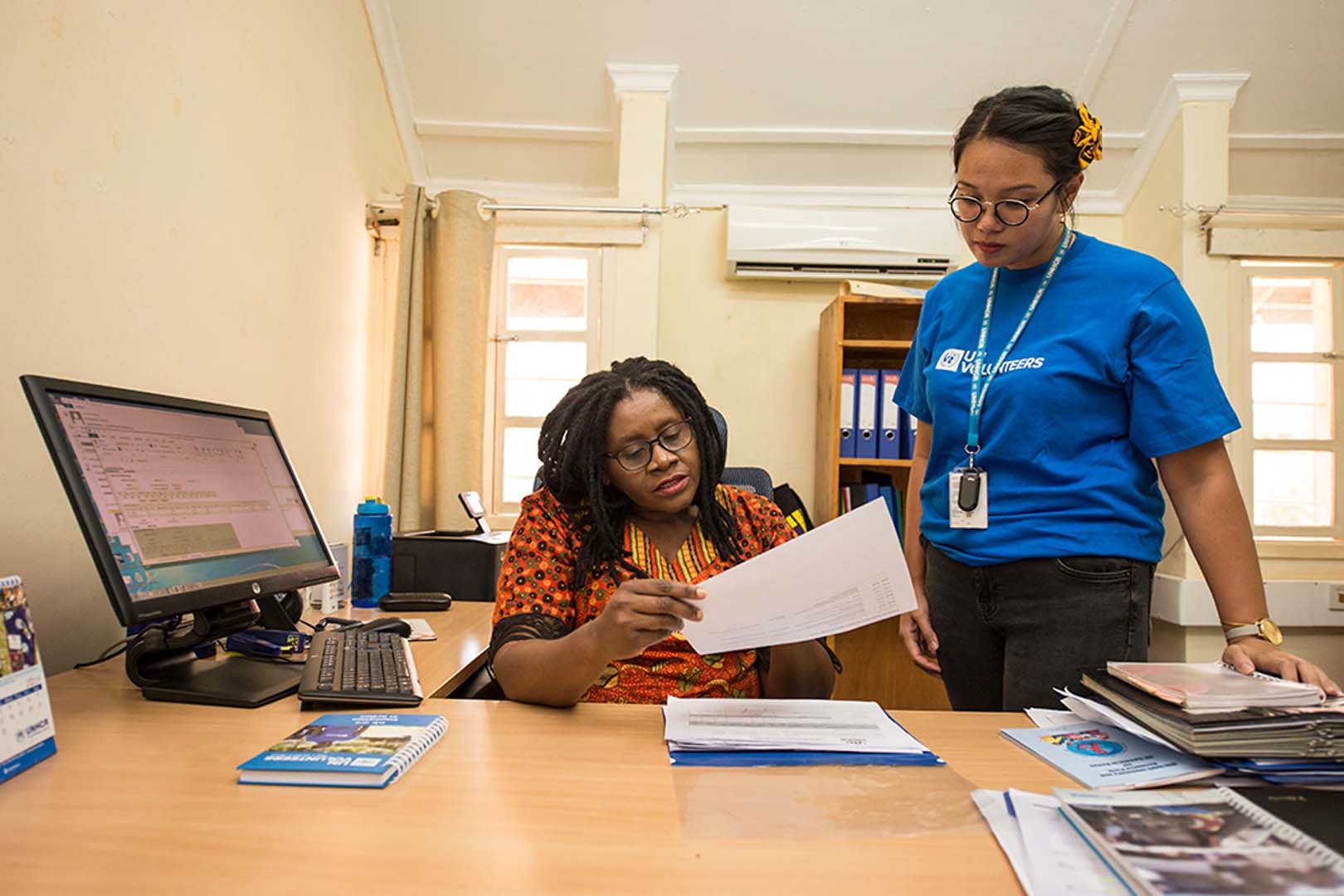 Photo: International UN Volunteer Meriana Megasari working as the Compound Manager at Kakuma Refugee Camp consulting with the Camp Supervisor in Kenya.
© UNV, 2019
Understand the UN Volunteer journey
It's up to us to create the best first impression of our organization. Many UN Volunteers are highly qualified and so ensuring they feel appreciated from the start of their journey will help build a strong foundation for a positive and productive assignment.
The relationship between a volunteer and their supervisor is one of the most important. How well you support them through their assignment, can shape how well they collaborate with your team and the quality of their contribution. 
Sail through stage 1 of being a supervisor
(you'll simplify 3 more)

The UN Volunteer journey represents the different stages that you and the volunteer will experience together.
For guidance on supervising your volunteer, as you grow together from stage 1 (Recruitment and Pre-onboarding) to stage 4 (Transitions), keep a copy of this diagram for reference.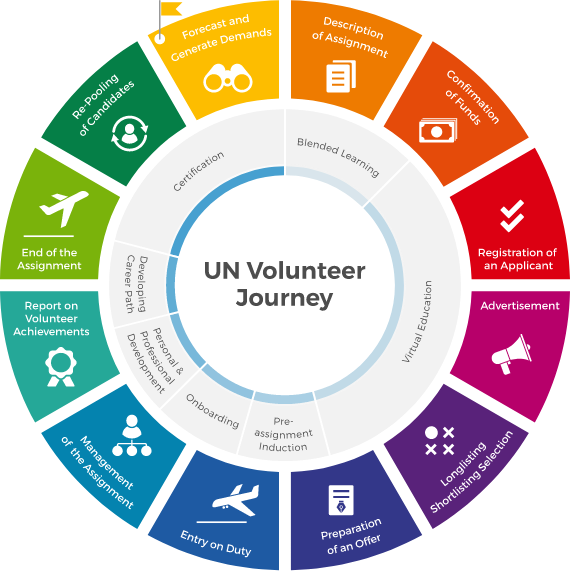 Hire and Get UN Volunteer Ready to Start
• Identify suitable UN Volunteer solutions for your needs
• Create a Description of Assignment
• Secure fund confirmation
• Interview and select a UN Volunteer
• Clarify role and context-specific information
• Pair up your volunteer with an onboarding buddy
• Facilitate visa prior to arrival (if applicable)
• Plan for arrival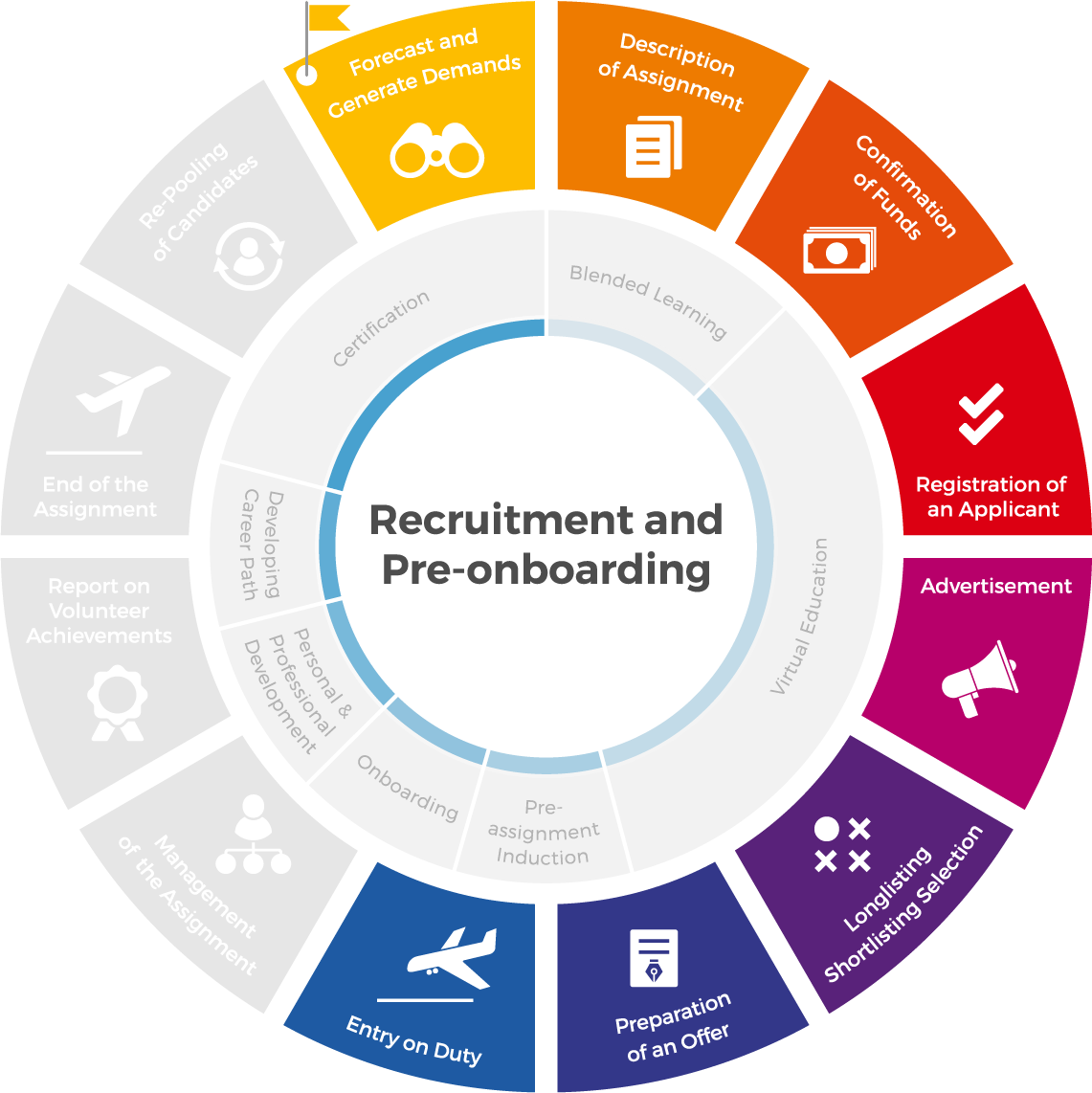 Settle Volunteer in Successfully and Swiftly
• Coordinate logistics and administrative formalities
• Facilitate security and local medical and health briefing
• Create connections with the team and organization
• Establish one-on-one meetings to facilitate progress
• Choose a coaching buddy to help settle-in, understand culture and work
Integrate Volunteer as Part of your Team
• Clarify expectations, role and responsibilities
• Go through policy, procedures and compliance requirements
• Support participation in meaningful work
• Facilitate access to Host Entity resources and partners 
• Create workplan and personal development plan to move up the learning curve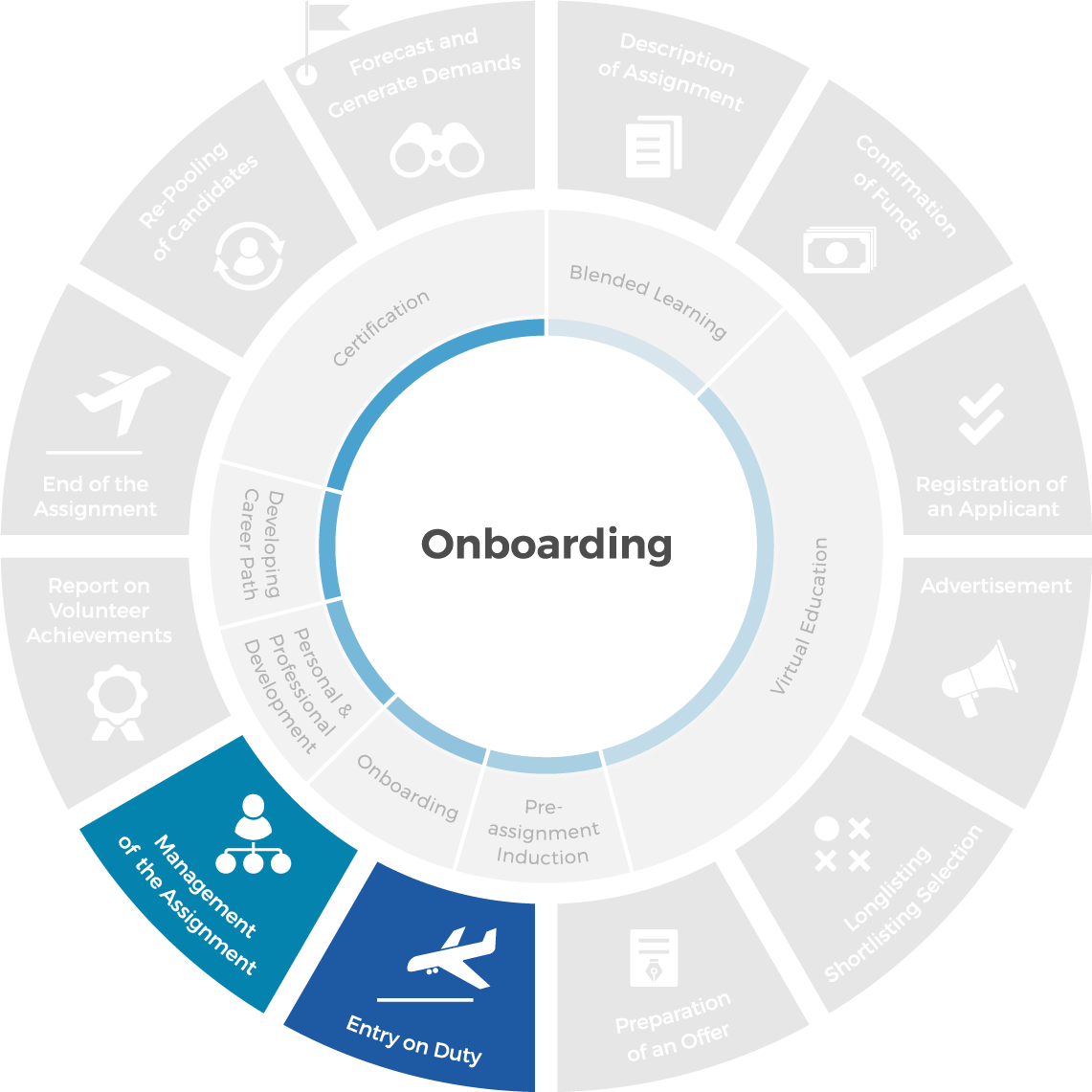 Encourage your Volunteer to Develop and Grow
• Access support and resources for supervisors
• Enable UN Volunteer learning and performance
• Unite UN Volunteers and staff
• Address workplace concerns
• Prevent misconduct
• Motivate and acknowledge UN Volunteer contributions
Recognize Volunteer's Effort and Commitment
• Champion mental health and well-being
• Recognize motivations and strengths
• Motivate through opportunities for learning and transfer of skills at the workplace
• Communicate individual achievements
• Document acquired skills and competencies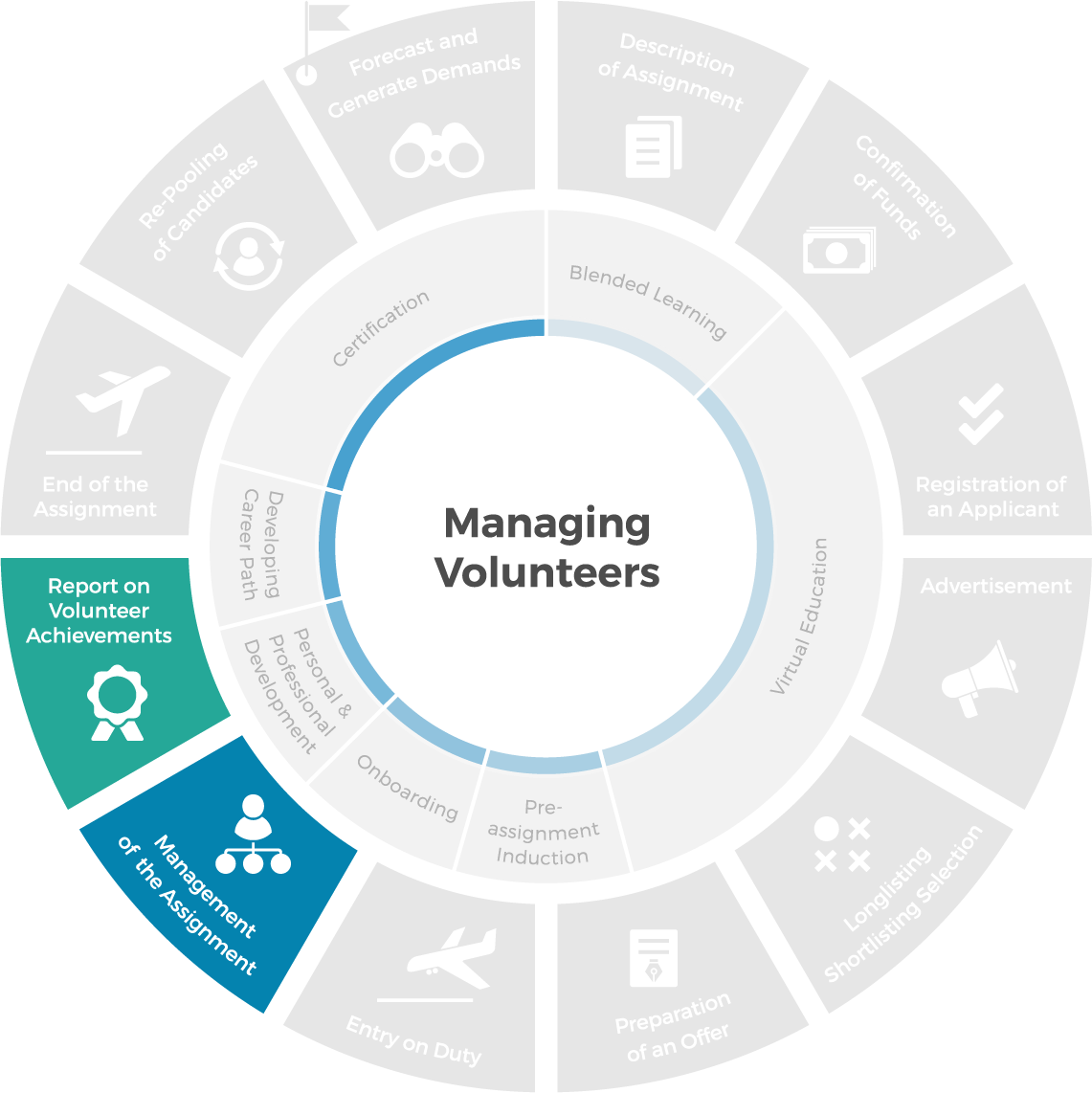 Support Volunteer Move Forward
• Discuss extension / separation and set expectations early
• Complete final performance appraisal
• Praise achievements and skills in reference letter
• Facilitate hand-over to successor
• Get your volunteer officially checked out
• Enable positive closure and farewell